en
DERMOACTIVE CONCENTRATED DROPS
Vital Plus Active has formulated innovative skincare applications in the form of concentrated drops that penetrate deep into the skin to maintain correct fundamental skin nutrition, providing functional ingredients that support the normal physiological events that occur in the skin layer. The goal is to improve and slow down the crono aging of the skin through the three fundamental functions required by the skin: nourishment, protection and renewal. These three functions are essential to safeguarding all dermal cutaneous functions over time.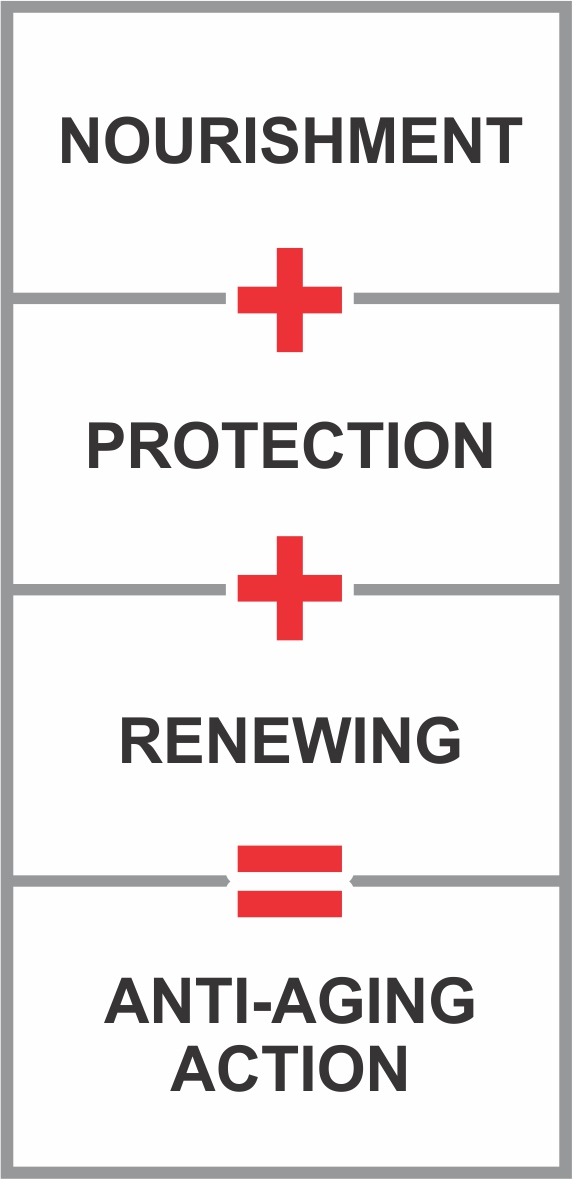 SKIN CARE IN THE FORM OF CONCENTRATED DROPS BASED ON HYALURONIC ACID
Suitable for normal, mixed or very dry skin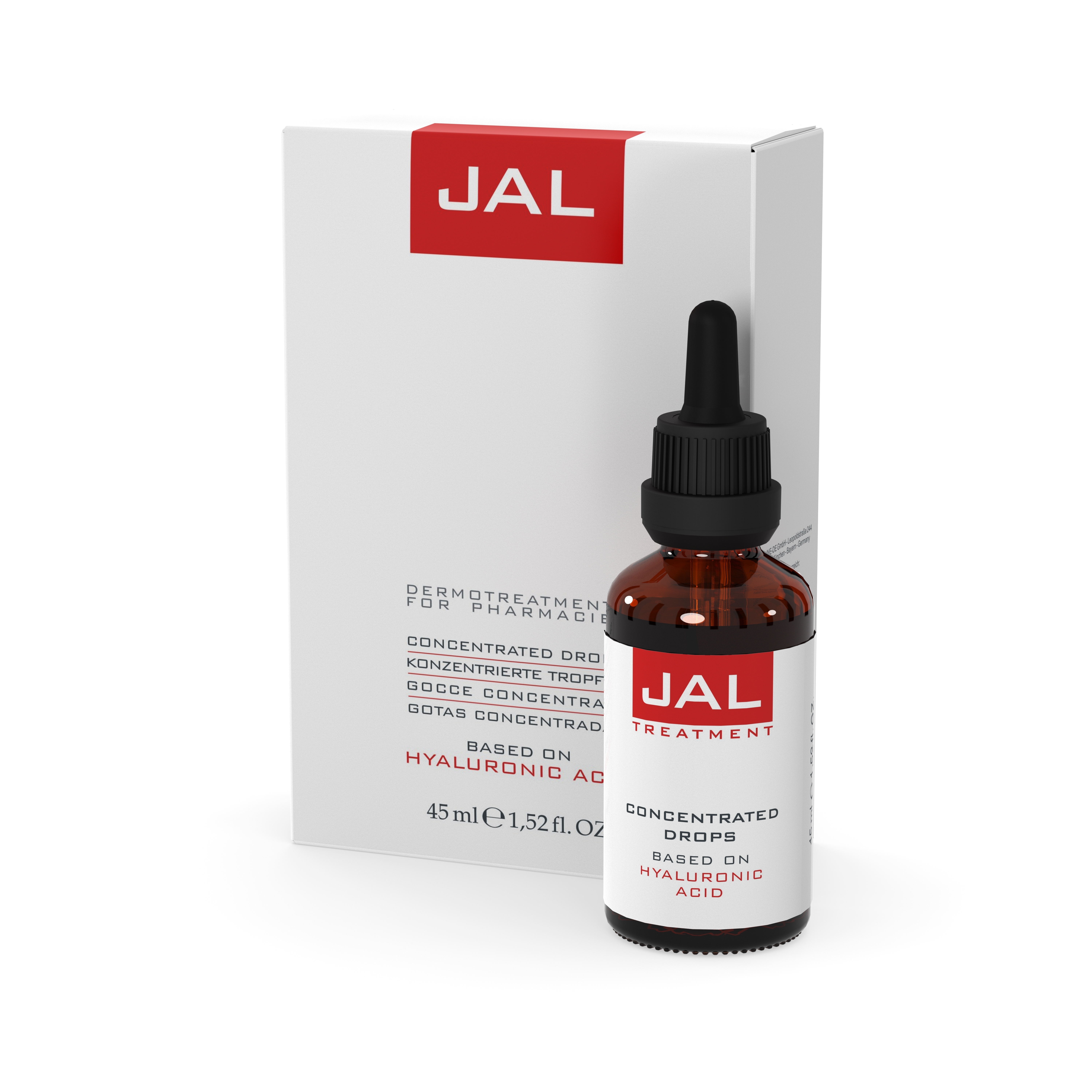 HYALURONIC ACID is one of the skin's basic components. It gives it resistance and maintains its healthy look. Over the years, the concentration of hyaluronic acid in skin tissues gradually decreases, causing aesthetic changes such as wrinkles and skin laxity. Therefore, a constant source of nourishment and moisture from the outside as well becomes of the utmost inportance. The VITALPLUS research laboratories have analysed the various stages of this degenerative process and thus developed an innovative skin care product in the form of concentrated drops based on HYALURONIC ACID, which penetrate deep into the skin. The drops are applied to the face, neck and décolleté, in order to establish the correct level of hydration and to reduce the physiological process of water evaporation from the skin tissue. HYALURONIC ACID is obtained through a bio-technical and fermentation process carried out with the help of genetically unmodified lactic acid bacteria on wheat substrate. HYALURONIC ACID deeply nourishes and moisturises the skin, with a prolonged effect from 6 to 8 hours, while penetrating to the cells of the spinous layer. Moreover, its remarkable moisturising effect also influences the mechanical properties of keratin in the basophilic cells of the spinous and granular layers of the epidermis, which become more flexible and elastic. Skin care based on HYALURONIC ACID, in synergy with ACTIVE PLANT STEM CELLS, also promotes the natural biochemical processes of cell renewal and thus the physiological production of collagen. This gives the skin elasticity and tone, visibly reducing fine lines.
USE: morning and evening after cleansing thoroughly, apply a few drops of product to the face, eye area and décolleté. Massage gently. If necessary, follow by using your usual beauty product to enhance its effectiveness.
CARE IN THE FORM OF CONCENTRATED DROPS BASED ON GLYCOLIC ACID
Suitable for impure, mixed or mature (non-couperose) skin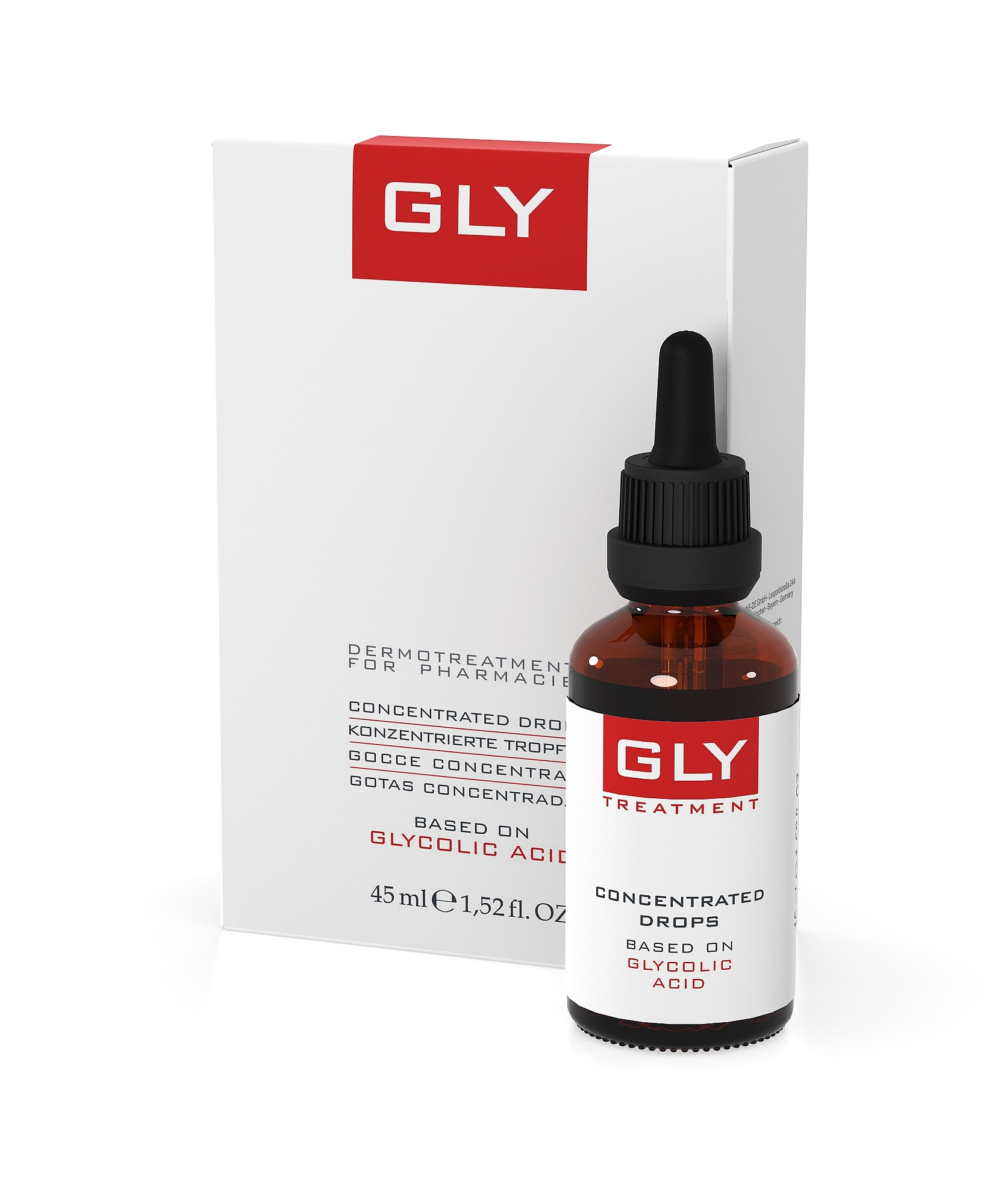 GLYCOLIC ACID gently removes the surface layer of the horned layer of the epidermis. It has a gentle exfoliating effect, which enables the renewal of the skin surface. GLYCOLIC ACID causes a physiological increase in collagen and elastin synthesis, thereby increasing the level of skin hydration. In oily and impure skin (prone to acne), GLYCOLIC ACID has a smoothing effect which improves the conditions that cause the formation of acne. It eliminates keratin build-ups, which clog pores, and normalises sebum production. At the epidermal level, the product stimulates cell renewal by breaking bonds between cells. This results in a thinner horned layer, wrinkle reduction, and the removal of superficial dark spots, improving skin tone uniformity. By stimulating fibroblasts to form collagen and elastin, the dermis attracts water and thereby hydrates all skin tissue, which becomes more toned and compact.
USE: morning and evening after cleansing thoroughly, apply a few drops of product to the face and décolleté (do not use in the eye area). Massage gently. If necessary, follow by using your usual beauty product to enhance its effectiveness. The first week apply GLY drops two evenings, the second week each second evening and from the third week apply them every evening.
WARNINGS: Apply to undamaged skin (NO COUPEROSIS), avoid contact with the eyes, eyelids and mucous membranes in general. Slight redness and a slight tingling is considered normal.
CARE IN THE FORM OF CONCENTRATED DROPS BASED ON MARINE COLLAGEN
Suitable for thin, delicate or couperose skin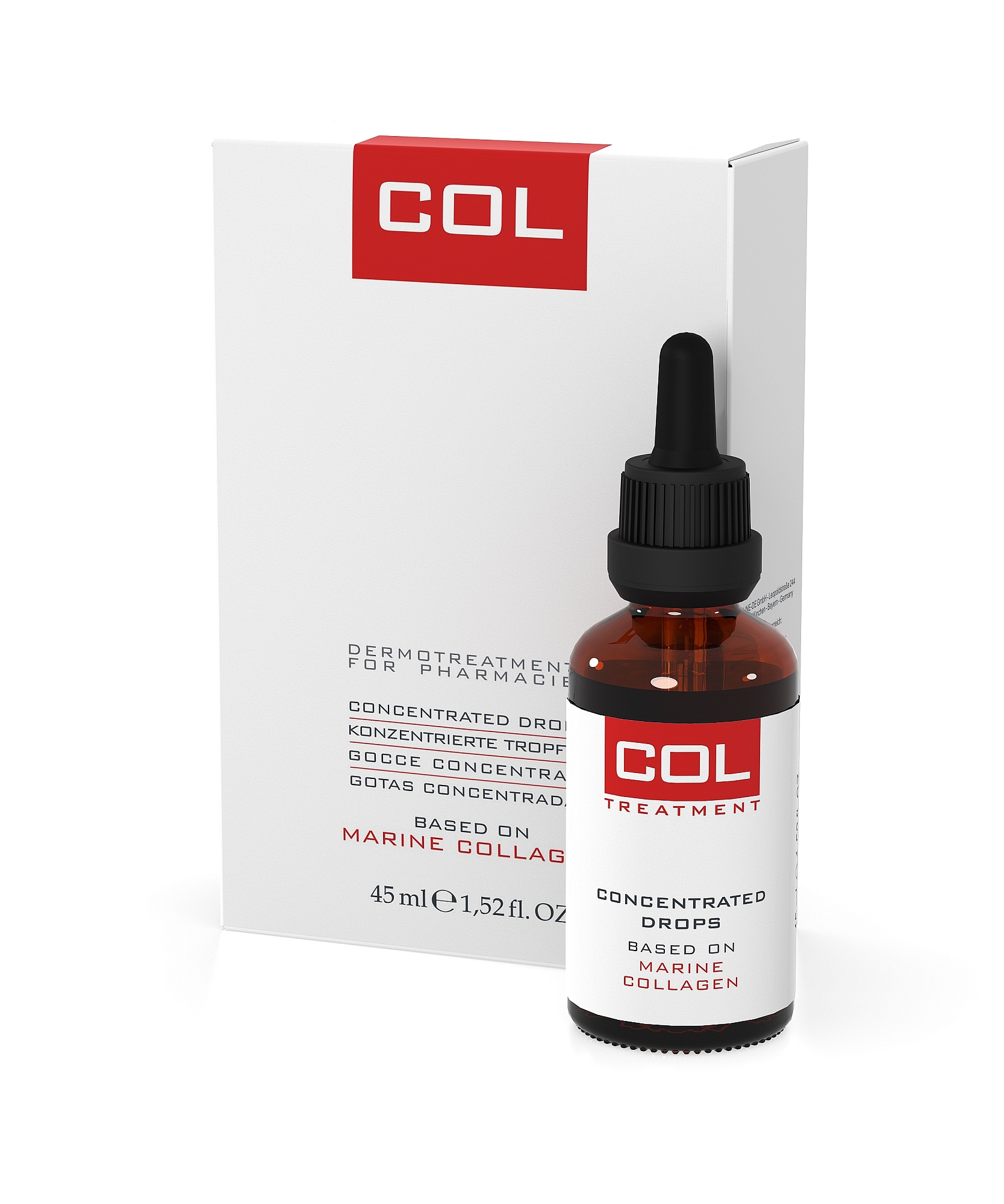 Collagen is an essential protein, a component of white fibres forming the dermis. Its function is strengthening the skin tissue and maintaining its elasticity. Over the years, the amount of collagen produced by the body significantly reduces. Slower formation of collagen leads to wrinkles and skin laxity. Various studies and tests have confirmed that MARINE COLLAGEN protects the skin in the same way as natural collagen. On the physical-chemical level, it enables the improvement of the energy exchange in all skin layers, thus effectively slowing down skin ageing. MARINE COLLAGEN is a functional substance rich in fatty acids, such as Omega-3, and in proteins; moreover, it contains hydroxyproline, which is a substance that provides the skin with metabolic food. Its synergism with amino acids, proteins, and Omega-3 fats improves the epithelial tissue, nourishes and protects the skin, and makes it more flexible.
Researchers have produced a special skin care product in the form of concentrated drops based on marine collagen. By analysing its exceptional features, they have established it is ideal for the treatment of skin that needs protection, soothing, and preventing and treating skin redness. The product's unique texture, thanks to its high content of soluble collagen, instantly penetrates the skin and increases the thickness of the spinous and granular layers of the epidermis, creating a protective barrier for the entire skin tissue.
USE: morning and evening after cleansing thoroughly, apply a few drops of product to the face, eye area and décolleté. Massage gently. If necessary, follow by using your usual beauty product to enhance its effectiveness.
THE CREAM YOUR SKIN DEMANDS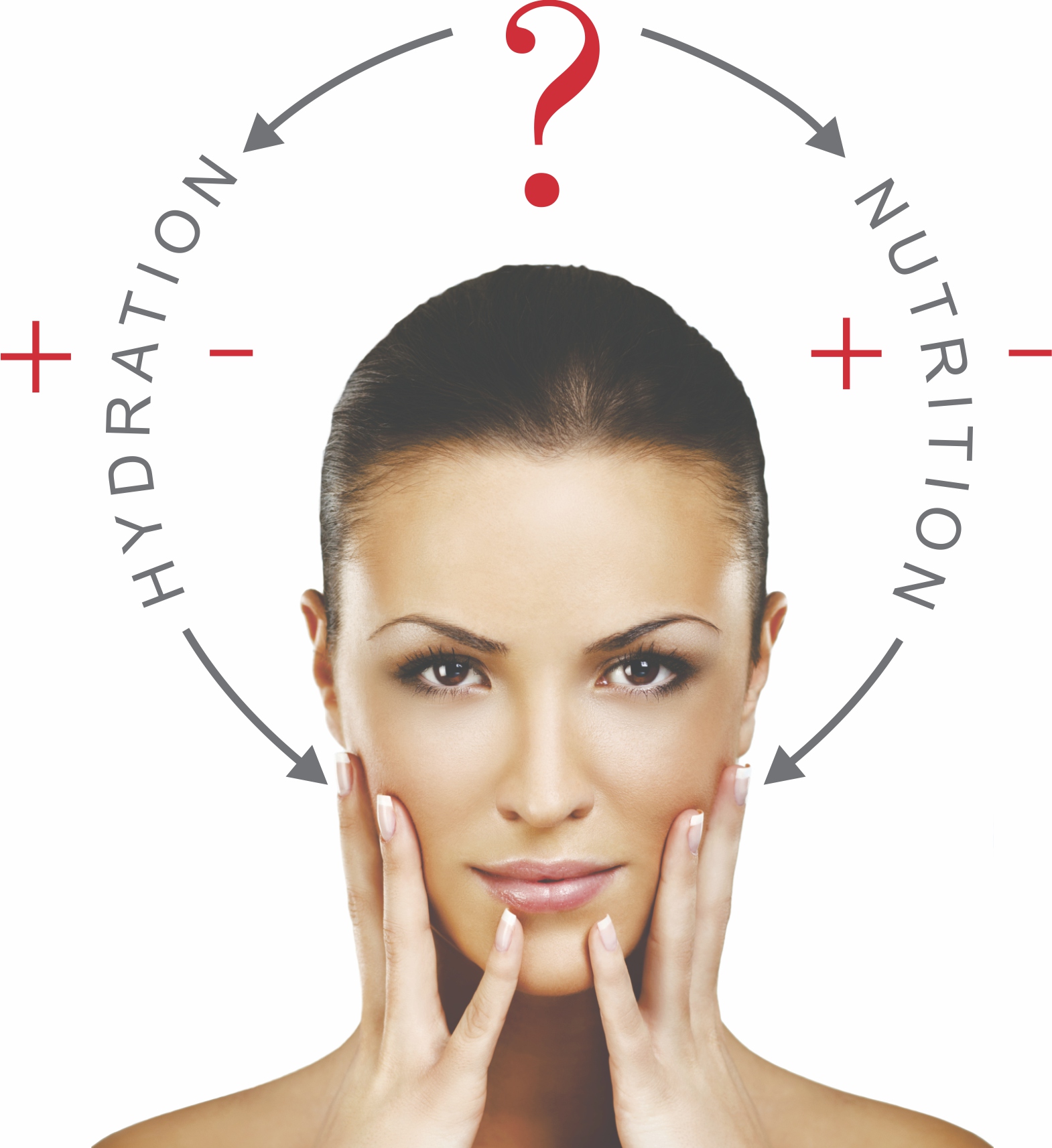 VITALPLUSACTIVE has created 3 innovative active cream treatments, with different functions according to the proportion of nutrients and moisturisers contained. This ensures we offer a suitable solution for all skin types, according to use (morning or evening) and to the seasons (summer or winter). The goal is to offer the choice of the most appropriate treatment to guarantee the right degree of nourishment and hydration, according to what our skin needs.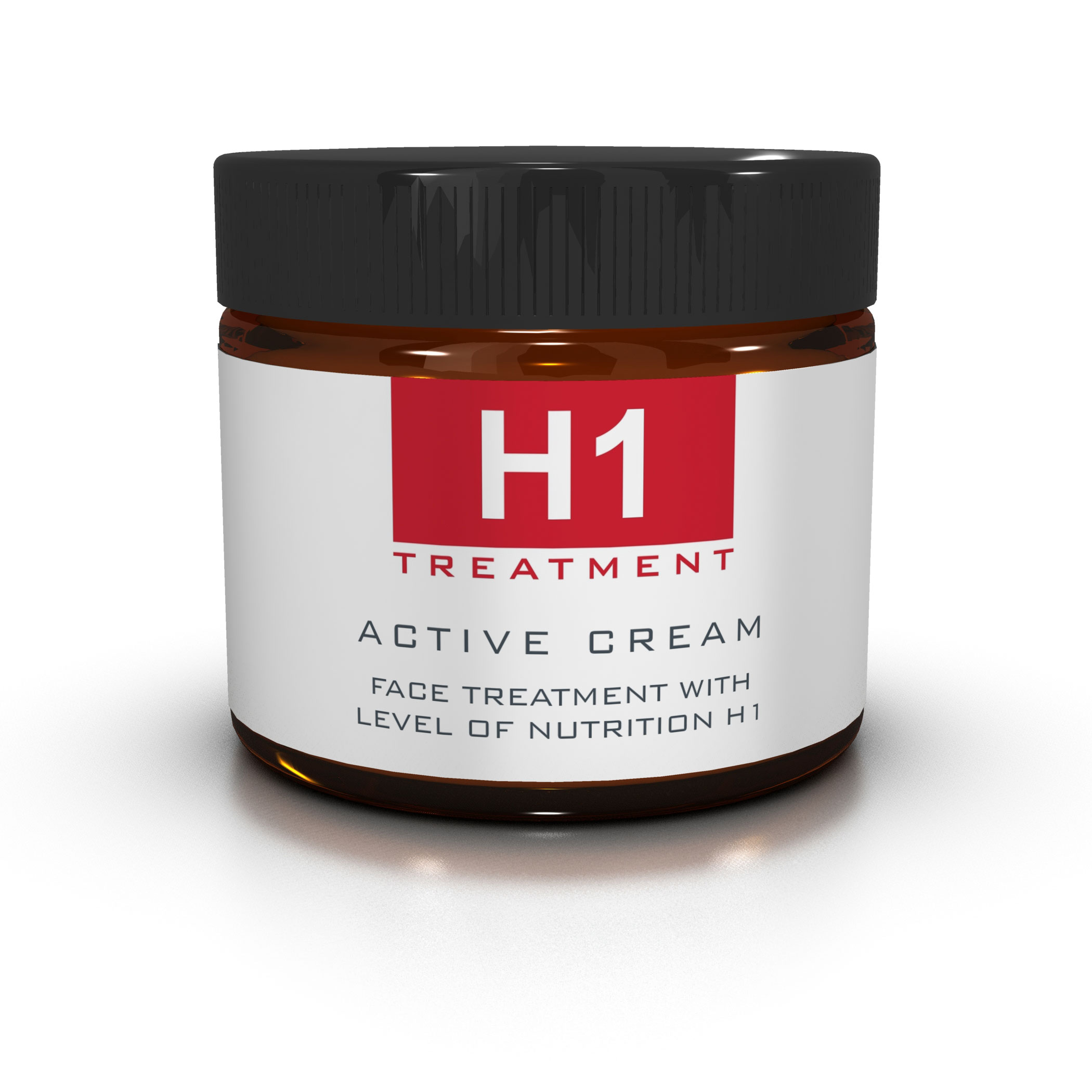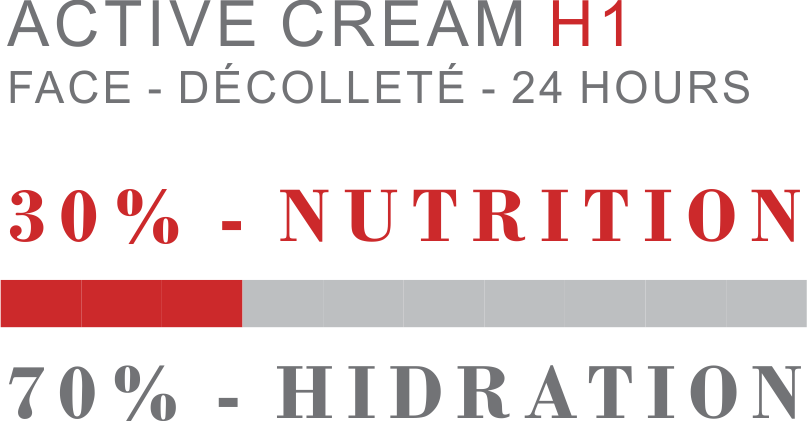 Emulsion cream with low nutrient content, recommended for skin that physiologically already has sufficient quantities of lipids. It improves skin tone and has POWERFUL moisturising and normalizing action.
FUNCTIONAL INGREDIENTS: LAMINARIA SACCARINA - Powerful normalizing action, eliminates inflammation caused by bacteria. It is also is a physiological pH regulator and creates a dermal film that optimizes hydration. SHEA BUTTER - This substance is used for its healing, emollient, elasticizing, moisturising and antioxidant properties. ROSE DOG EXTRACT - Rich in vitamin C and vitamin A. It has an astringent, lightening, smoothing and toning action. SWEET ALMOND OIL - Easily absorbed, resistant to atmospheric agents, it is rich in vitamins E and D, proteins and mineral salts. Excellent anti-ageing properties and helps skin renewal. OLIVE OIL - This substance has the characteristic of being particularly similar to dermal lipids and therefore is particularly useful for strengthening the hydrolipidic film.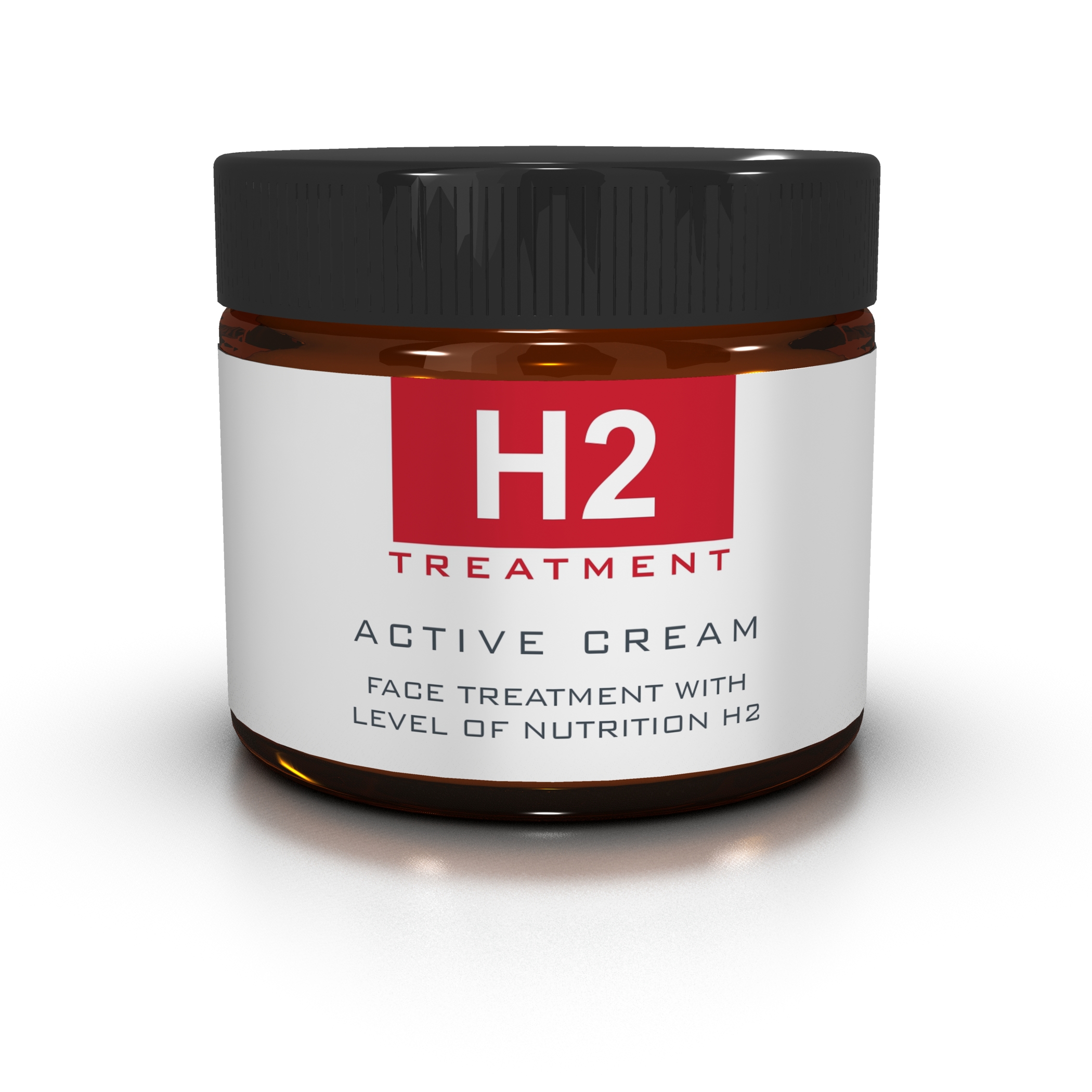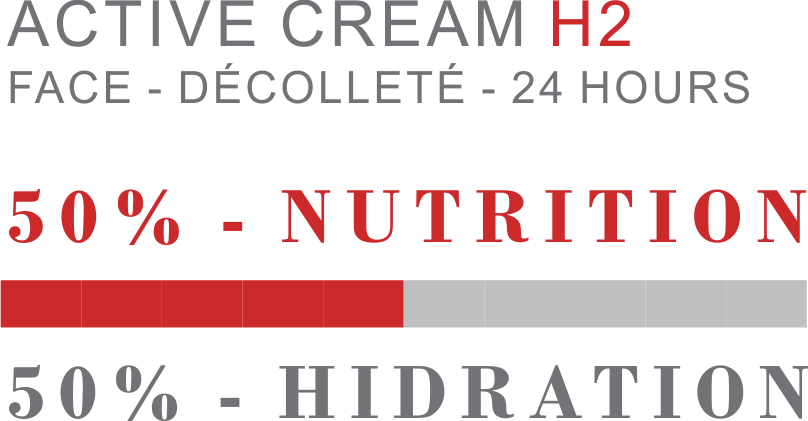 Emulsion with a balance of nutrients and moisturisers. Suitable for dry, dehydrated and sensitive skin, which requires POWERFUL nourishing and moisturising action.
FUNCTIONAL INGREDIENTS: CALENDULA EXTRACT - Powerful calming, soothing, protective and stimulating action. BORAGE OIL - Nourishing action and helps speed up the skin repair process. JOJOBA OIL - Protective, emollient and moisturising action thanks to the particular nature of the lipids that promote rapid absorption into the skin. It also protects against UV rays.
ROSE HIP OIL - Natural moisturising and regenerating action, it revitalizes the skin by eliminating signs of fatigue, for deep rehydration. Its rich composition of fatty acids helps to hydrate the skin, making it fresh, firm and reducing the signs of ageing. MIXTURE OF DIFFERENT MOISTURISERS AND NUTRIENTS, including AMINO ACIDS, FRUCTOSE, SODIUM LACTATE, LACTIC ACID, it reproduces the same composition as the skin's natural hydration factor.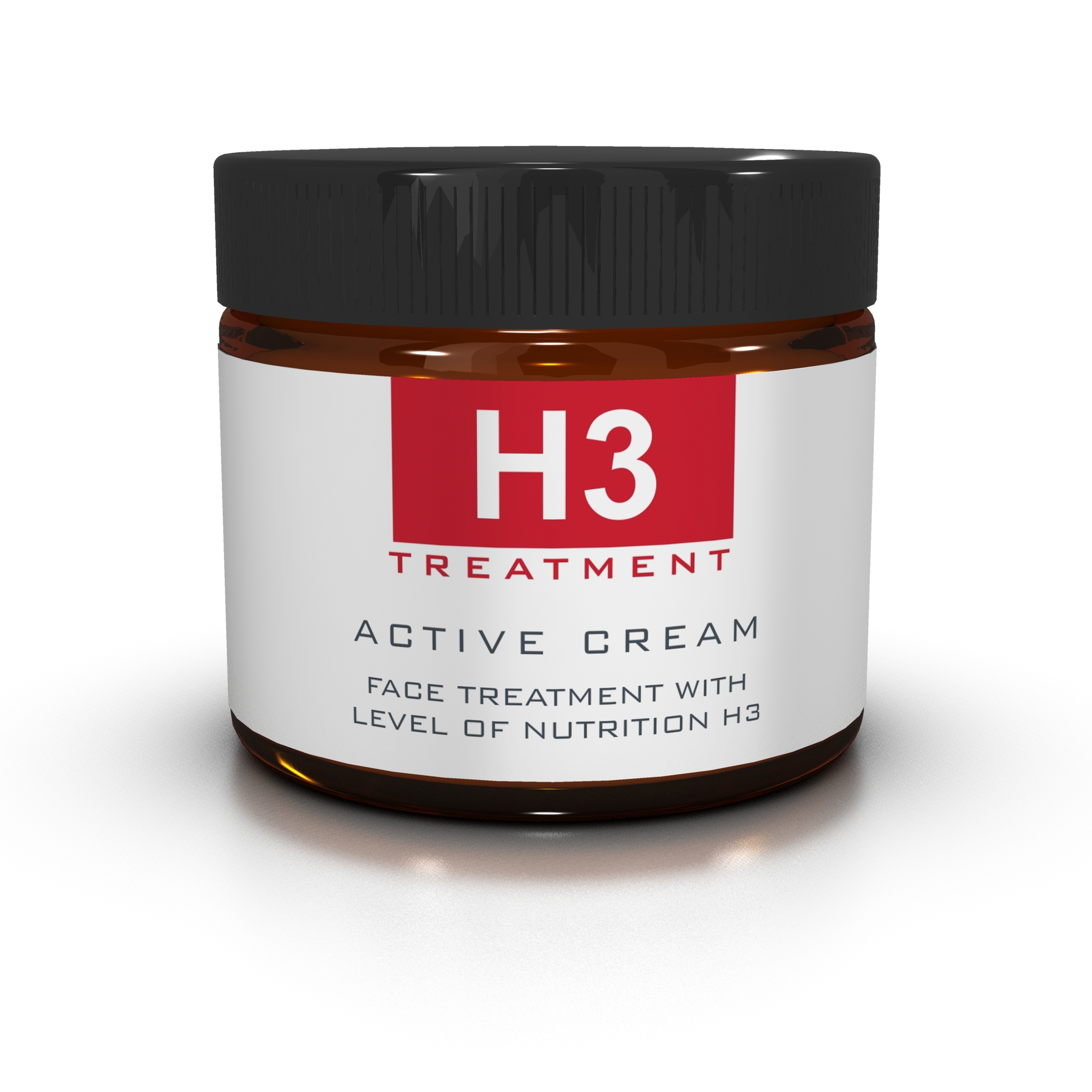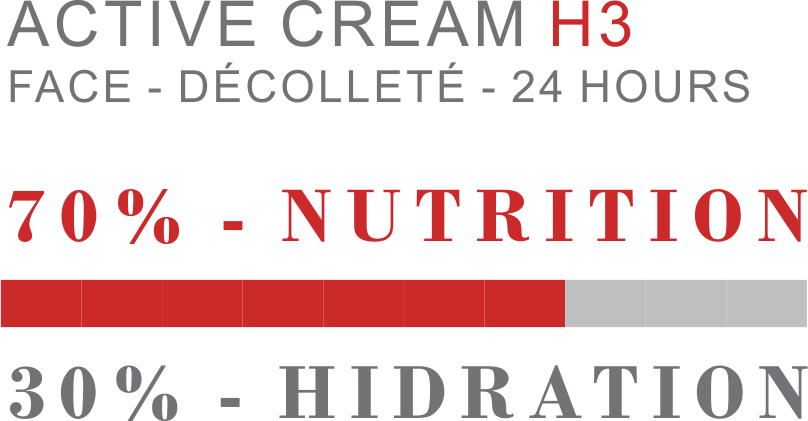 Emulsion with a high nutrient content, recommended for very dehydrated, thin, mature skin that needs EXTRA NOURISHING and REVITALIZING action.
FUNCTIONAL INGREDIENTS: OLIVE DERIVATIVE - multifunctional lipid extracted from the olive tree, this sophisticated ingredient offers emollient and nourishing action. PHYMA EXTRACT OF ACMELLA - a powerful anti-wrinkle active ingredient, it works on skin relaxation by slowing the cellular ageing processes. Leaves skin soft and radiant. COCONUT OIL - a great emollient, it also offers powerful nourishing action. VITAMIN E - promotes the absorption in the skin of active ingredients, it is an excellent natural anti-oxidant. It slows the skin ageing process. An important support for mature and inelastic skin, reconstituting the natural lipid film of the skin. PEPTIDE MATRIX - Dermatological assessment has demonstrated a significant reduction in the appearance of wrinkles.
FACTOR-BASED RECOMMENDED USE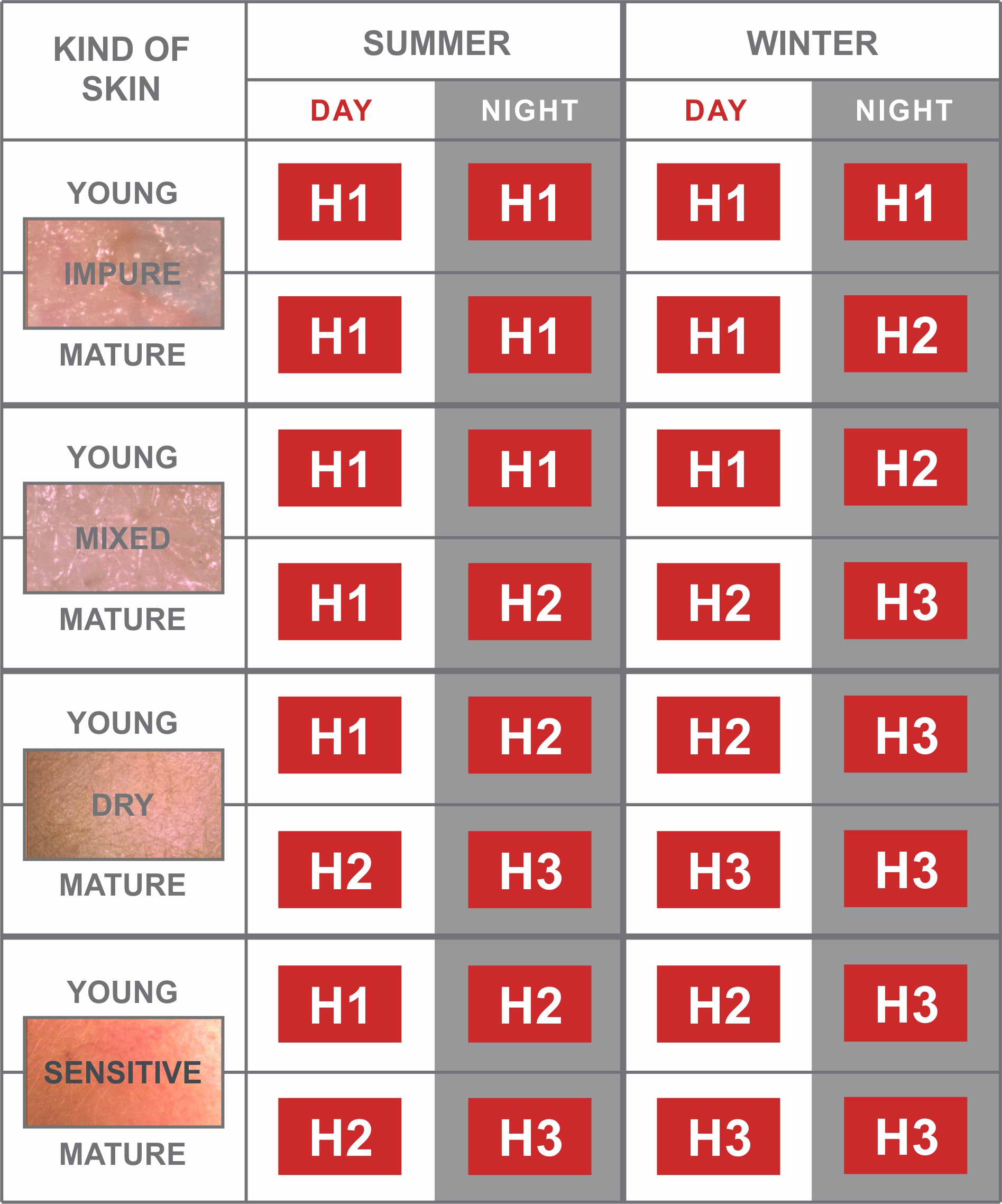 Skin cleansing is essential to eliminate both hydro-soluble impurities form cosmetic treatments and sweating, and lipo-soluble impurities caused by sebum, superficial lipids and smog. It's therefore necessary to use products able to guarantee the lipophilic substances solubilization and their subsequent removal without modifying the cutaneous bacterial flora and the lipid mantle. Cleaning should be done with hydro-soluble products and should not be just a cleansing action but also a real help for skin care.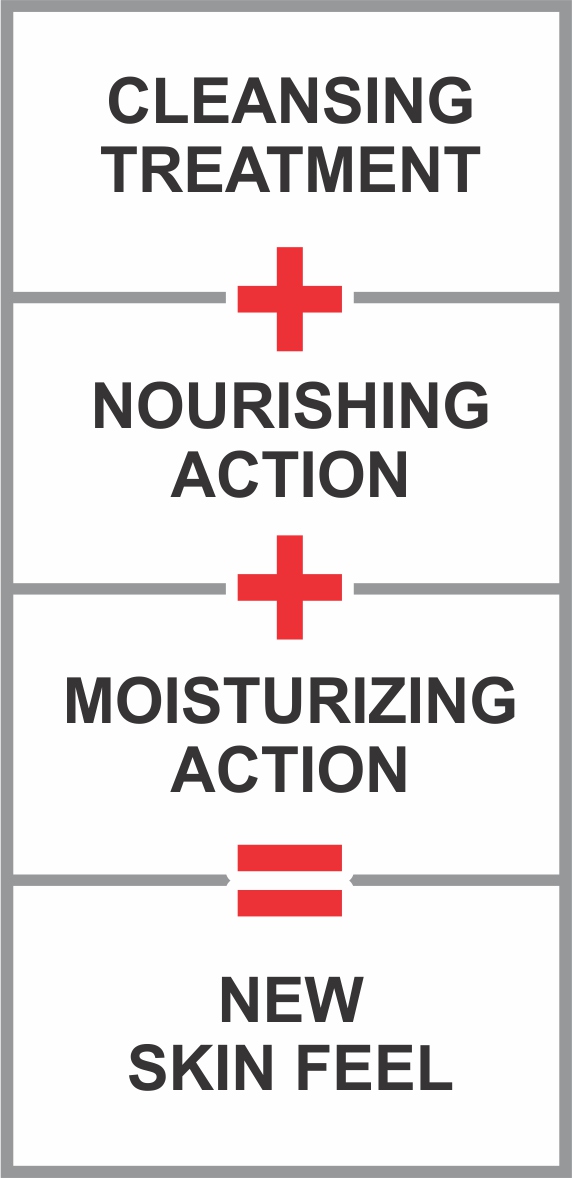 BEAUTY CLEANSING AND MOISTURIZING
CLEANSING AND HYDRATING TREATMENT
FOR ALL TYPES OF SKIN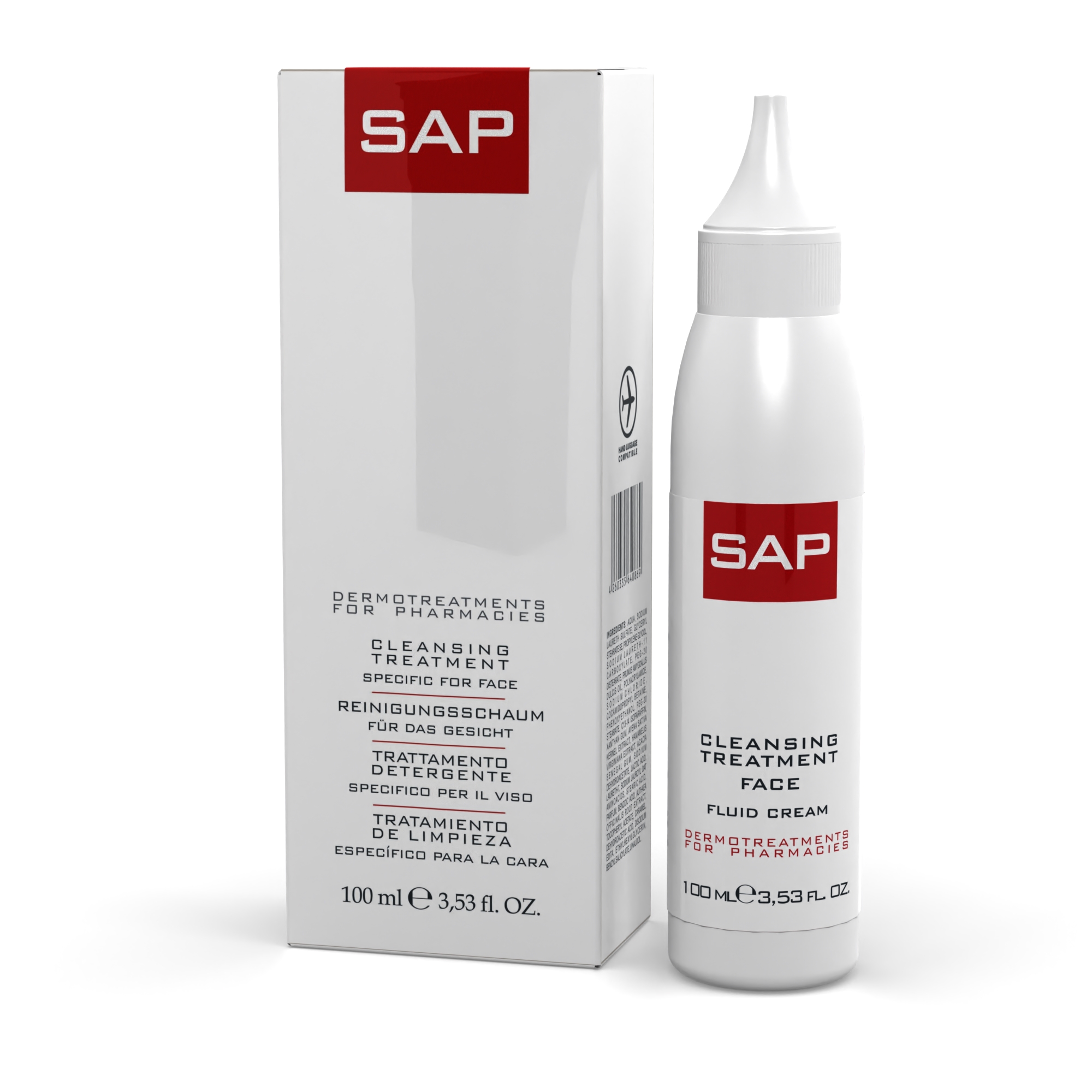 FUNCTION: removes gently and completely flaking cells, dust, smog and make-up from your face, leaving the skin clean, hydrated and radiant. Rich in OAT EXTRACT and softening and nourishing substances including: SWEET ALMOND OIL, ALTEA and AMAMELIDE EXTRACT. It is a fat-soluble and water-soluble product, particularly suitable for morning and evening cleansing. Excellent eye make-up remover.
USE: pour a few drops of product into the palm of a damp hand. Massage the emulsion into the face, neck and chest to create a soft foam. Rinse with warm water and proceed with your recommended skincare regime. No toner is needed.
BOOK ON-LINE IN YOUR PHARMACY A FREE DERMO MASSAGE WITH OXYGEN
+
DERMOACTIVE DROPS SPECIFIC FOR YOUR SKIN
BOOK NOW